Reliable energy savings
Reliable energy savings
Energy contracting (EC) is a partnership agreement between the owner of the building and the energy service provider, i.e. Interenergo, d.o.o. The basis for this kind of agreement is the owner's willingness to upgrade or renovate the existing energy system or to make it more efficient meaning lower energy consumption and lower costs for the user. Having a strong capital background, we can take the financial burden and risks related to the investment thus unburdening the owner.
Who should opt for energy contracting?
Hotels and commercial companies
Municipalities and other public institutions
A winning combination for both business partners
Energy contracting represents a winning combination for both business partners as they profit from energy and financial savings generated by their new system. Based on a particular share of the savings that are generated by using a newer and more efficient system, the investment is being repaid gradually. In addition, this guarantees a complete service, which relieves the user from any concerns relating to the operation of the energy system. During the energy contracting process, you can rely on our competent specialists who will take care of your renovation within a short space of time.
Example of energy contracting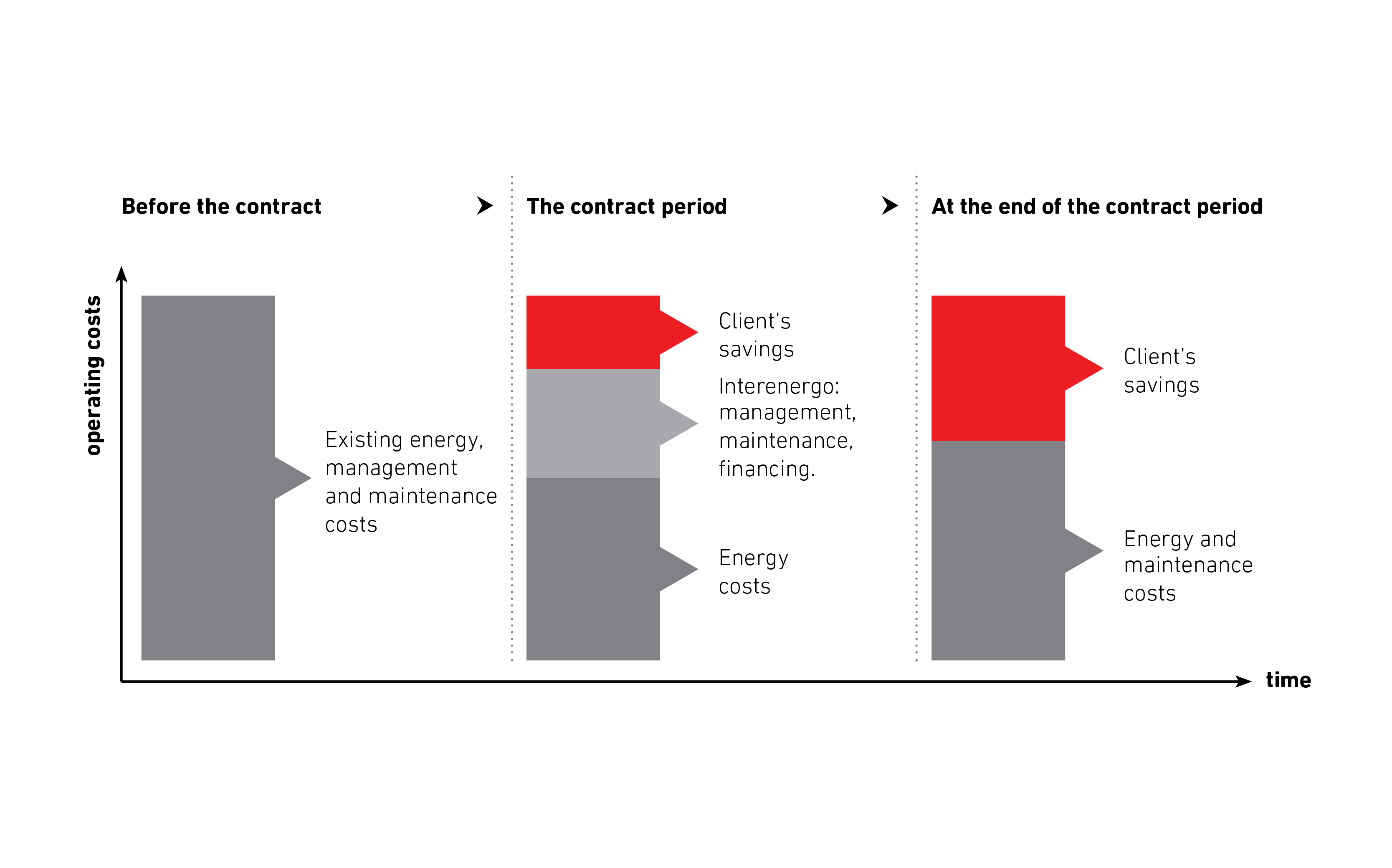 Let our experts do the renovation of the energy system for you
At Interenergo, we are extremely effective in identifying opportunities, planning upgrades as well as in implementing and in managing those. While doing this, our core goal is the impact of cost reduction exceeding the cost of investment. Our team of specialists with considerable knowledge of various technical solutions is responsible for achieving energy savings. Turn to your primary activity and let our experts take care of the renovation and operation of the energy system.
ADVANTAGES OF ENERGY CONTRACTING
Guaranteed financial and energy savings
Reduction of operating costs related to the energy system without your own investment.
A complete turnkey renovation of your energy system.
Less risks for you - the renovation is managed by a competent and experienced business partner.
The investment is refunded from a share of the guaranteed savings.
Do you want guaranteed energy savings? Interested in learning more about the EC?
Contact us or find out more in our brochure.